The value of effective and efficient marketing transcends all business arena's. I know well the return of proper marketing in my real estate business. Living by the mantra "never stop learning," we can never have too much information or too many options.
Lately, gem's like the recent article below seem to keep falling into my lap. Chalk-full with information, this posting would require a good Saturday afternoon's worth of time exploring. It is however, perfect browser bookmark material. A veritable database of marketing resources all in one place.
Conveniently grouped under headings like "Search Marketing" or "Marketing for Entrepreneurs," there is loads of valuable information.
Follow
THIS LINK
to the above mentioned article - or
Click on this badge to link over to the articles main site: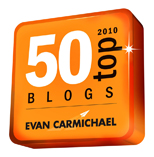 Cheers!